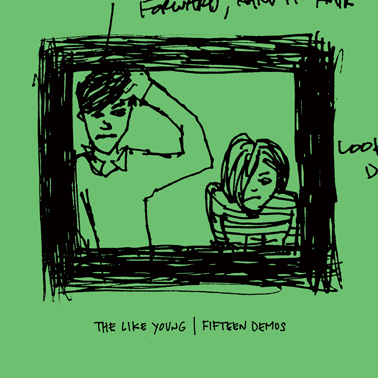 I'm say­ing good­bye to The Like Young. Only this time, I'm doing so with a hug and a smile, rather than a big "fuck you" and a kick to the crotch. Well, maybe a hug and a smile and a tiny "fuck you". But I'm fresh out of kicks.
Last year, I orga­nized my archives for the band, which, not sur­pris­ingly, had been left in a sham­bles fol­low­ing our retire­ment and sub­se­quent divorce. As I went through every­thing, I started to feel good about the work we'd accom­plished, about all of the insan­ity that was weath­ered, and the sac­ri­fices we'd made to cre­ate music full time. No mat­ter the out­come or what came later. Any­way, I'd for­got­ten about the mas­sive amount of unre­leased songs that I'd demoed, but never released, dur­ing those four years. Then, I thought, "It might be fun to self-release a col­lec­tion of these songs. I should do that."
I guess I wasn't ready yet. Because this project was put aside for exactly one year. Which brings you up to speed.
Fif­teen Demos is exactly what it sounds like. Fif­teen of my demos for The Like Young, writ­ten and recorded from 2002 to 2006. You might notice that there's a lack of Amanda on these record­ings. This is not inten­tional, and it's no reflec­tion on her drum­ming, which was never less than stun­ning. That's just how the band worked. More times than not, the fin­ished songs were sim­ply more assured ver­sions of the demos, only with both of us play­ing. So, save for a hand­ful of songs, this is just me play­ing all of the instru­ments and singing. All of this (and more) is cov­ered in the "liner notes", which can be read by click­ing on "info" next to each track at the link below. I just wanted to give you a heads-up.
So yeah. That's about it. I'm say­ing good­bye to The Like Young. But, I'm say­ing good­bye to The Like Young because I want to, not because I have to. There's a big difference.