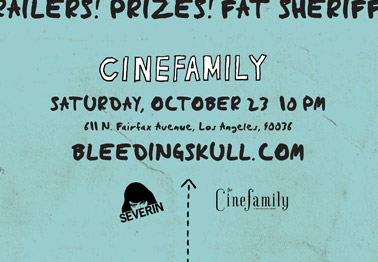 Not a Beau­jo­lais show. But just as excit­ing for me. So read on!
On Octo­ber 23, My friend Dan and I are curat­ing an evening at the fan­tas­tic Cine­fam­ily here in LA. Since 2004, We've been bash­ing away at a film web­site called Bleed­ing Skull. After a hia­tus, the site was relaunched ear­lier this year. That made us happy.
Now, with co-sponsors Sev­erin Films, we're bring­ing a bit of that hap­pi­ness to Los Ange­les, as Bleed­ing Skull Presents: A Night To Dis­mem­ber (pro­jected from direc­tor Doris Wishman's per­sonal BETA-SP mas­ter tape) and Don't Panic (pro­jected from an ultra-rare 35mm print)! Also screen­ing is a hand-picked trailer reel and an exclu­sive BS mix called My Fat Sher­iff. We'll chat. We'll watch. And we'll have a lot of fun. So, if you're in LA, c'mon out and spend a lovely pre-Halloween evening with us.
For tick­ets and more infor­ma­tion, head over to the Cine­fam­ily site.
For a hi-five with your new favorite dis­si­dents, check out the trailer: